Woodcutting
Talk

5
87pages on
this wiki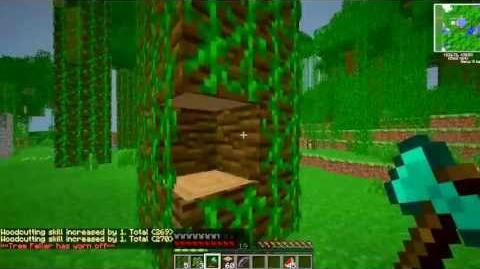 Woodcutting
The result of said woodcutting.
Tool Used

Axe

Interacts With
Abilities

Tree Feller (Active)
Leafblower (Passive (From level 100))
Double Drop (Passive)
Woodcutting
 is a skill in McMMO that is leveled by breaking wood. The special ability Tree Feller allows a player to chop down a whole tree from only chopping one block, and at level 100 gain the ability to destroy leaves instantly. Rarely you'll also get 2 logs from a single log on a tree.
Active Skill: Tree Feller

Edit
To activate this skill, right-click with the mouse while an axe is in your hand, aimed at a block of wood.
Upon Activation (Hitting a Log of Wood): Makes the tree (small, medium, or large) explode, causing all adjacent log blocks within the tree, along with most of the leaves, to drop to the ground as drops. Works well against Notch (oversized) trees. Tree Feller has a default time of 2 seconds and increases by 1 second every 50 levels.
It has a default cooldown of 5 minutes, changeable in the config.yml file and loss of durability.
In config.yml file can alter the rate of loss of durability (default 2, as in 200% of the going rate) and duration of cooldown. If the axe breaks while the tree is being felled, the player will be damaged (his/her axe splinters into dozens of pieces), and only the block that was broken to topple the tree will be chopped.
LeafblowerEdit
Leafblower is a skill that activates at level 100. With it you can destroy a leaf with a single swing of your axe.
Note: This skill takes away durability from your axe. It is assumed that the doubled rate of tool degrading still applies. it may even take triple durability. stone axes are thus recommended.
Double DropEdit
Gives one the opportunity to get two log blocks from one. Chance of occuring is directly related to level, increasing by 0.01% each level.
Note: Does not work on logs placed by the player, but naturally generated ones. Ones from trees and saplings are considered naturally generated.
ExperienceEdit
Experience TableEdit
| Block Type | Experience Gained |
| --- | --- |
| Giant Mushroom | 70 XP |
| Oak Logs | 70 XP |
| Spruce Logs | 80 XP |
| Birch Logs | 90 XP |
| Jungle Logs | 100 XP |
Experience Gaining TipsEdit
Create a Large birch tree farm. Space the Trees out in 4x4 increments. Then just go through chopping. Activate Tree-Feller for quick gains!
Do this same trick with jungle trees! Arrange 4 jungle saplings in a 2x2 square, bonemeal one and tada! you now have a massive jungle tree! Put these in a grid like the birch trees and activate tree feller. It gives A LOT of xp, but watch your axe durability! If your axe would run out of durability from cutting the tree down, the message "YOUR AXE SHATTERS INTO HUNDREDS OF TINY PIECES" will be displayed, the axe will break, and you will take a tiny bit of damage.
Create a Large room. Plant mushrooms, then fertilize them with bone meal to make a giant mushroom. The mushroom blocks are an instant break with a iron axe. This damages your axe quickly which you can then repair and increase your repair skill as well!
TutorialsEdit
MCMMO Mechanics spotlight: Woodcutting updated 1.6.4https://www.youtube.com/watch?v=L0dCnkuHhOk