Unarmed
Talk

11
96pages on
this wiki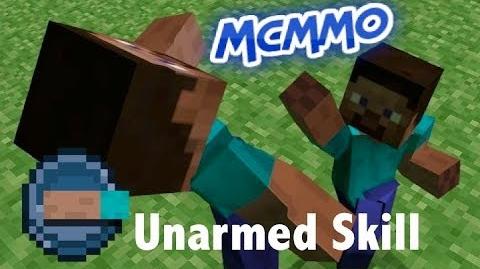 Unarmed
Get smacked!
Tool Used

Empty handed

Interacts With

Mobs (All)
Other players
Weaker blocks

Abilities

Berserk (Active)
Iron Arm Style (Passive)
Arrow Deflect (Passive)
Disarm (Passive)
Iron Grip (Passive)
The Unarmed skill is when one uses their own fists to eliminate Mobs and opposing players.
Active Skill: Berserk
Edit
Beserk is an activated ability which does a 50% increase in damage and it breaks weak blocks(sand, dirt, gravel) instantly. This means your maxed 10 damage can be increased to 64.8 damage with a strength potion, maxed unarmed, beserk and landing a critical.
Iron Fist Style
Edit
Iron Fist Style is a passive ability that increases the base unarmed combat damage. It starts at a 3 damage point bonus; added to the vanilla minecraft punch, it gives a total of 4 damage points, or 2 hearts. It increases by 1 point every 50 levels, until it hits a bonus of 8 damage, or 9 damage points total, at level 250.
Arrow Deflect
Edit
Arrow Deflect is a chance for arrows shot at the player to do no damage. It increases by .05% per level, with a cap of 50% at level 1000. It only works with arrows shot by players, and does not work with arrows shot by mobs.
When the player hits an opponent while unarmed, there is a chance for the player to disarm the opponent, causing the weapon to be dropped. The chance increases .03333% per level, with a max of 33.33% at level 1000.
Iron Grip
Edit
Iron Grip gives a chance for a successful Disarm to be counteracted. The chance for a successful Iron Grip increases .1% every level, for a maximum of 100% at level 1000
Experience Gains Chart (per punch)
Edit
| Type | Experience per hit |
| --- | --- |
| Spawner Mobs. | None, unless specified by server |
| Hostile Mobs. | 50 - 100 XP |
| Non-hostile mobs | 40 XP |
| Player without armor | 45 XP |
| Leather armor | 30 XP |
| Iron and gold armor | 30 XP |
| Diamond armor | 45 XP |