Taming
Talk

1
87pages on
this wiki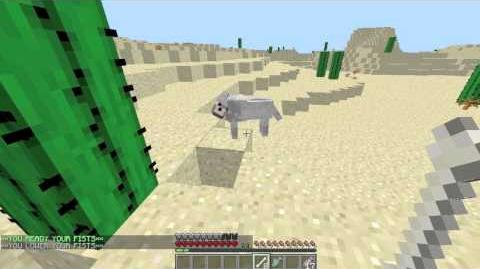 Taming is a skill in McMMO. The Higher the level, the more health your tamed wolves and ocelots get. Wolves will also do more damage.
Active SkillsEdit
Summons an animal to your side. To use it hold 10 bones for Wolf, 10 fish for Ocelot or 10 apples for Horse and hold shift while left clicking..
Animals summoned with "Call of the Wild" will have a custom name.
A summoned wolf only has 8 hp, as opposed to the 20 hp that a normal tamed wolf would have, so the summoning spell isn't as effective as taming a wild wolf yourself. Summoned wolves will also disappear after some time.

Note: Active skills are skills activated by the player/tamer.
Passive Skills
Edit
Note: Passive skills are skills activated by the pet wolf. These cannot be controlled by the player.
Whenever tamed Wolves attack a target, there is a chance that they will inflict a critical strike that applies bleed. The chance goes up 0.1% per level to get a Gore.
Fast Food Service (50+)Edit
Fast Food Service gives a 50% chance for your wolves to heal on attack.
Thick Fur (250+)Edit
With Thick Fur, your wolves receive half damage and fire resistance.
Holy Hound (375+)Edit
Holy Hound causes your wolves to be healed by poison.
Shock Proof (500+)Edit
Shock Proof causes your wolves to take 1/6 damage from explosions.
Sharpened Claws (750+)Edit
Sharpened Claws makes your wolves deal an extra two damage per hit (1 heart). Dealing a total of 8 damage (4 hearts) per hit on hard mode, 6 damage on normal and 5 damage on easy.